MARCH 10th
Congratulations to all involved for the title of Top 5 Junior female at the 2018 Australian Nationals Championships for Chelleason Mademoiselle Sophia sired by our stallion MF Aryan el Thessa! It was her 1st show appearance!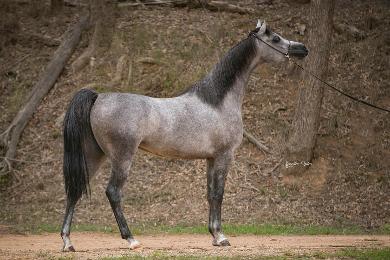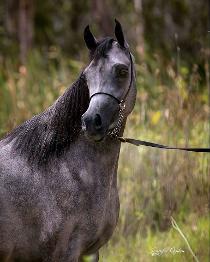 FEBRUARY 20th
Discover a stunning daughter of MF Aryan el Thessa out of Sophia VW, beautifully bred and owned by Chelleason Arabian Stud / Australia !
Chelleason Mademoiselle Sophia VW
JANUARY 28th
Discover our new video of MF Aryan el Thessa's worldwide offsprings
Starring from the Middle East:
VA Ludjin Ibn Aryan - Al Aryam Dallal - Avalon Himryaa - Elle Duran
From the USA and Brazil:
Aryanaa - Aryelle el Thessa - Avalon Marsyanah
From Europe:
Tchaata D'Aria - Tchaata Shanyaa - Avalon Ayaade - Nafiesa Makito - Avalon My Lady - Neila Chanel - Avalon Soleiya - Largo de Sarjevane
From Australia:
Nazaryan - Chelleason Mademoiselle Sophia - Sniper SA
JANUARY 8th
Tchaata's team wishes you a very happy new year and presents you a beautiful girl from sunny Australia: Chelleason Mademoiselle Sophia WV sired by our chief stallion MF Aryan el Thessa. She is out of the beautiful and champion producer Falcon BHF daughter Sophia WV! Bred and owned by Chelleason Arabian Stud / Australia and leased by Mr Mathew Haddow.

Feeling proud to see so many stunning MF Aryan el Thessa's offsprings all around the world and from very different dam lines! Make sure you get your breeding this year as we will keep him totally private within 1 or 2 years! Excellent quality frozen semen stored in Europe, USA and Australia!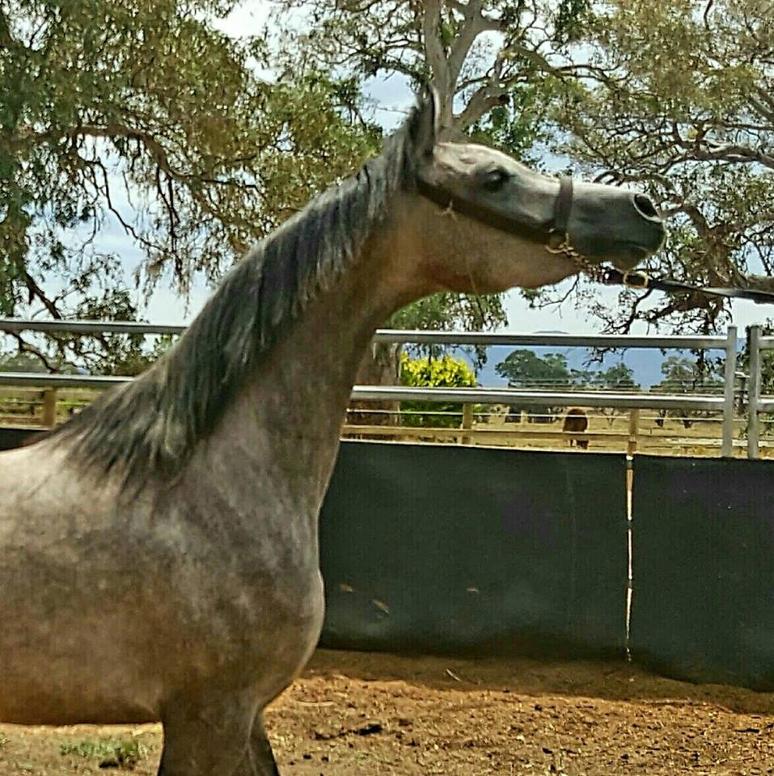 DECEMBER 24th
Congratulations to M. Jasim Mohammed Abdulla Alshaer Alnaqbi / UAE for achieveing 4th in the Senior Male Championships (chosen 3 times for medals), 2nd of his class at 2017 Fujairah Arabian Horse Show / UAE with his beautiful son of MF Aryan el Thessa.... VA Ludjin Ibn Aryan! Congratulations to all involved.
Another great son of our stallion that shines abroad!
AUGUST 28th
2 Tchaata bred horses entered the 2017 for their owner Lys D'Or Arabians, TCHAATA INIZIATO sired by our homebred INIZIO won his class and became Gold Medal Junior Male and Most Beautiful Head Male Champion with the highest score of all the males and the second best score of the entier competition!
TCHAATA SHANYAA sired by our chief stallion MF ARYAN EL THESSA also won her class and became Silver Medal Champion Senior Female!
Congratulations to all involved, in the past 25 years we have only bred 20 foals, we don't go for quantity but for quality and our best success is our client's success!
ref. photo Tchaata Shanyaa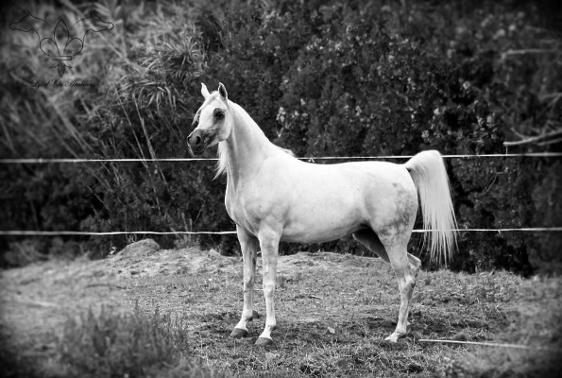 JUNE 20th
Discover the new video of a young stallion, kept hidden, 100% natural, not conditioned, never shown! NAZARYAN ,a son of our chief stallion MF Aryan el Thessa out of Nehima, a great daughter of Nazzai, the heritage of Mrs Tanya Hawley incredible breeding program in Australia! Nazaryan is bred and owned by Mrs Catherine Maher and is standing at Paul Hedges International / Australia!
Feeling so proud of Aryan and what he has achieved as a sire worldwide! Thanks to all involved, and especially Paul Hedges, who believes in Aryan as much as I do!
MAY 25th
Our yearling colt WHAT ELSE SA has been awarded Silver Medal Yearling Colt at the B international show in Pietrasanta / Italy, we are very pleased with this result , it was his 1st show at 11 months old. We would like to thank Giacomo Capacci team for the incredible work and we look forward for the next competitions!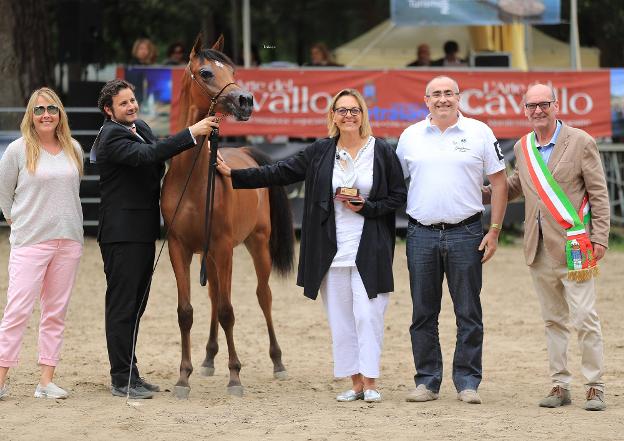 Congratulations to NAFIESA MAKITO, 3 years old colt sired by MF Aryan el Thessa, he won the 2-3 years old colts class in St Oederende Show / The Netherlands and was Silver Medal Junior Male Champion!
Congratulations to his breeder and owner, Nafiesa Arabians, family Besselink / The Netherlands! We feel very proud of this lookalike son of MF Aryan el Thessa!
APRIL 20th
Discover some images of our new farm video that will soon be edited... enjoy for now some views from the sky!
APRIL 17th
A new adventure as a movie team settled down at the farm for a few days... The new movie of Yannik Ruault, a Scottish/French production and starring our chief stallion MF Aryan el Thessa! This horse amazed everyone, he is not worked or taught for cinema, but I showed him once things he had to do free, and each time they filmed only twice to get what they were looking for!
I was more nervous knowing the situation he was going to face with, especially when he had to get near someone sleeping and snorting in the grass to eat cookies that person had left on his side, then after eating that he had to walk away very calm, staying in shot all the way.
Very proud of him, not only he is a very beautiful horse but also a very intelligent one and also so gentle...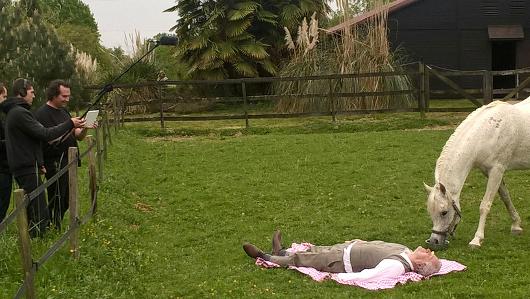 MARCH 25th
Congratulations to AL ARYAM Stud in Abu Dhabi for winning Bronze Medal Senior Female at the 2017 EAHS National Championships / UAE with Al Aryam Dallal, a beautiful daugfhter of our stallion MF Aryan el Thessa!
Considering that MF Aryan el Thessa's breedings are very limited ( 10 breedings maximum per year worldwide ) we feel extremely pleased to see that so many of his offsprings win titles worldwide!
MARCH 13th
Congratulations to Al Ashaï Stud for the lease of our beautiful FS Ritz daughter Sarabi al Tiglio, this mare is truly very special, wishing them lots of success in breeding her and no doubt her genetic potential will be a promise of success!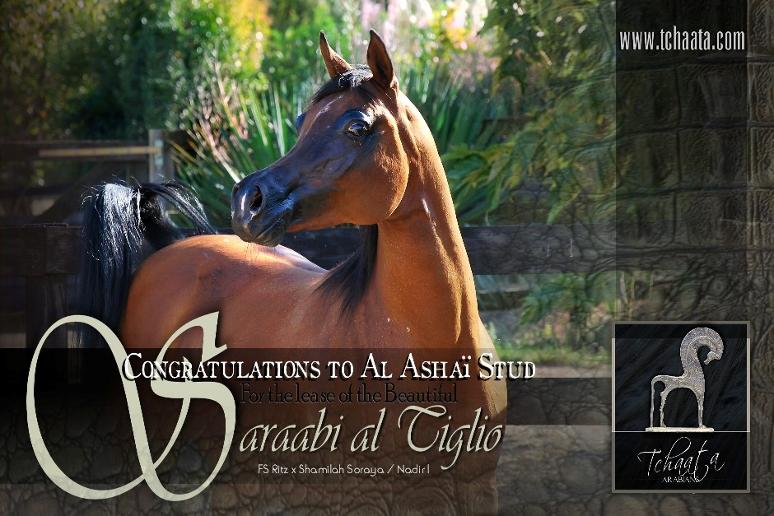 MARCH 12th
It is official, we will no longer offer breedings of MF Aryan el Thessa in France.... nevertheles we are excited to announce that our homebred TCHAATA MAX MARA (sold to M. Daniele Locatelli in Italy) will be available for breedings in France in 2017 via fresh semen! He is a son of MF Aryan el Thessa and out of our 25 years old mare Shamilah Mahatma! Her last foal and a very good one, Tchaata Max Mara looks a lot like his famous grand dam PADRONS MIST twice Reserve World Champion mare! Tchaata Max Mara has already proven his ability as sire to produce extremely typey foals with extreme charisma and movement! Special breeding fee in France for the 2017 breeding season! Contact us for infos.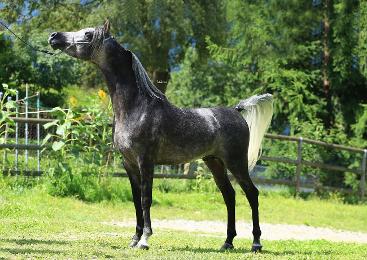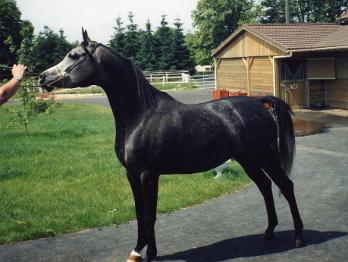 His Grand dam PADRONS MIST
And also some photos of our stallion MF Aryan el Thessa, also with winter coat, no clipping etc... This stallion truly enbodies my idea of pure Arabian type!

DECEMBER 11th
Great news from the 2016 World Championships in Paris as our homebred TCHAATA INIZIATO, for the second year in a row, was 3rd of the junior male qualificative categories and achieved the title of World Champion TOP TEN Junior Male! Congratulations to his handler Bernat Tolra and his owner Lys D'or Arabians / France
For the second year in a row he gets the best rank out of all the French horses presented in Paris.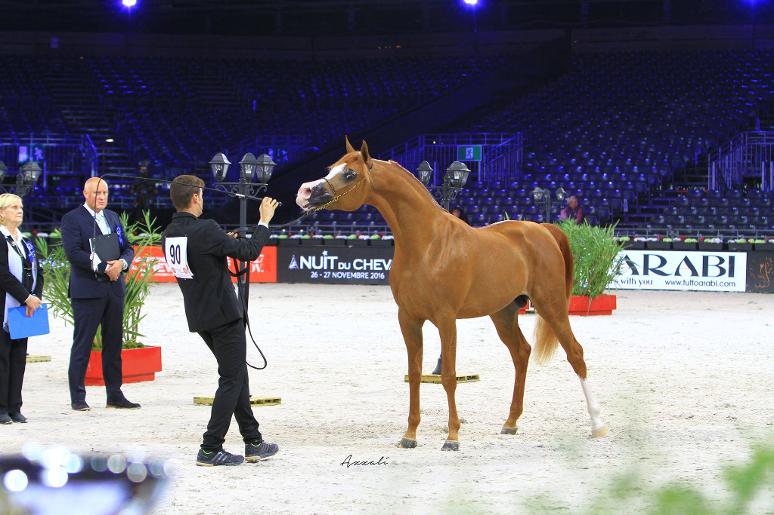 AUGUST 10th
A new young mare should arrive at Stud, an extremely typey MF Aryan el Thessa daughter out of a very special Monogramm daughter! Extreme type and movement, this 5 years odl fleabitten mare is in foal to the young stallion Maqam al Shahania (bred by the famous Al Shahania Stud / Qatar) a son of ZT Marwteyn and out of the queen of Markelle Arabians... RGA Kouress! Exciting time ahead...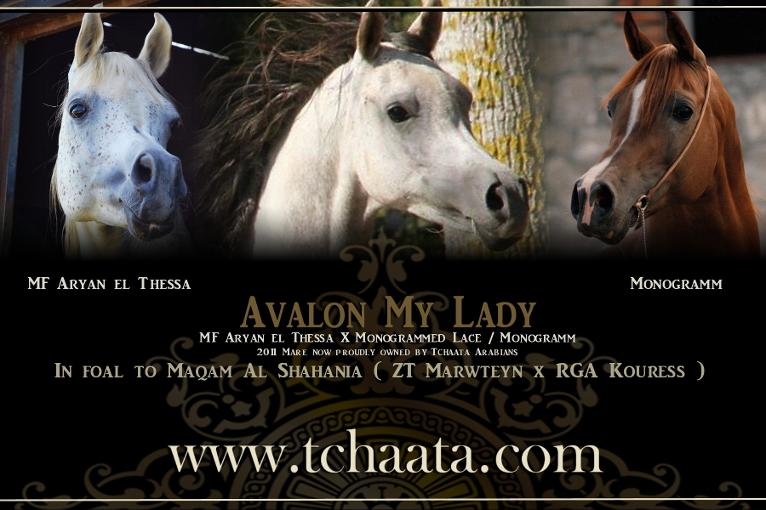 APRIL 21st
Congratulations to Mrs Shannon Parry and all involved in another great achievement for her colt SNIPER SA sired by our stallion MF ARYAN EL THESSA, he has just been awarded 2016 Arabian Gala Event Junior Male Champion in Australia! Well done, feeling very proud to see so many Aryan el Thessa's offsprings winning all over the world!
Meanwhile in the USA, a stunning little filly was born at Taylor Ranch / Utah, sired by MF ARYAN EL THESSA and out of the Om el Bandeiras daughter. Bred and Owned by Taylor Ranch USA. Congratulations!
ref.photo SNIPER SA
MARCH 19th
Time to reveal a 2 years old colt who was kept "hidden", he was growing slowly and now it is time to show him! Soon to be revealed in the 2016 Australian shows
NAZARYAN ( MF Aryan el Thessa x Nehima / Nazzai ) bred and owned by M. Paul Hedges/Australia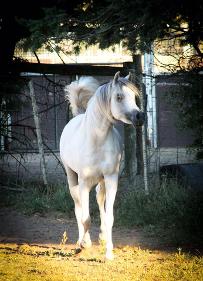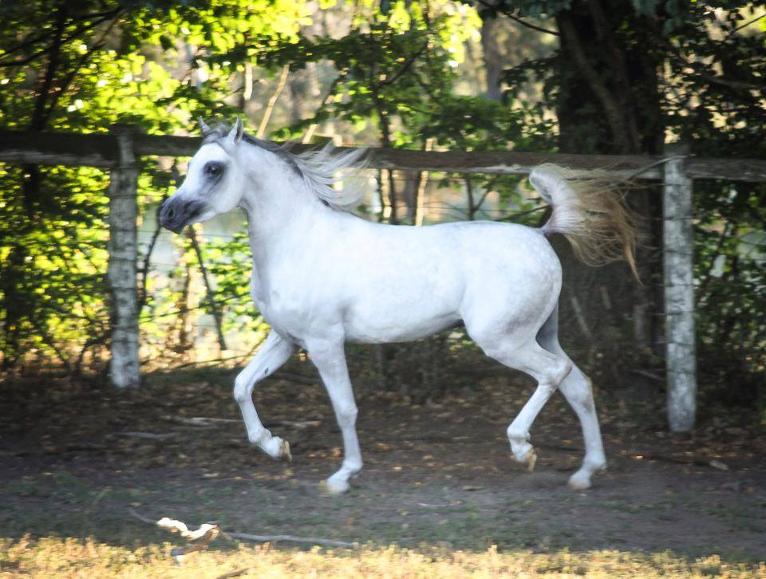 FEBRUARY 16th
Very pleased to introduce to you all a very promising colt sired by MF ARYAN EL THESSA, Nafiesa Makito ( out of Nafiesa Malaika / Ajman Moniscione), 100% natural, no show clipping, no make up, no training... but very impressive!
Probably MF ARYAN EL THESSA most lookalike son! Bred and owned by Nafiesa Arabians / The Netherlands who is expecting his full sibling very soon!
FEBRUARY 10th
2016...A very successfull beginning, congratulations to all involved as the MF ARYAN EL THESSA son DP Aryan el Jamal ( x Elle Noura / El Nabila B ) was awarded East Coast Champion 3 years odl colt in Australia!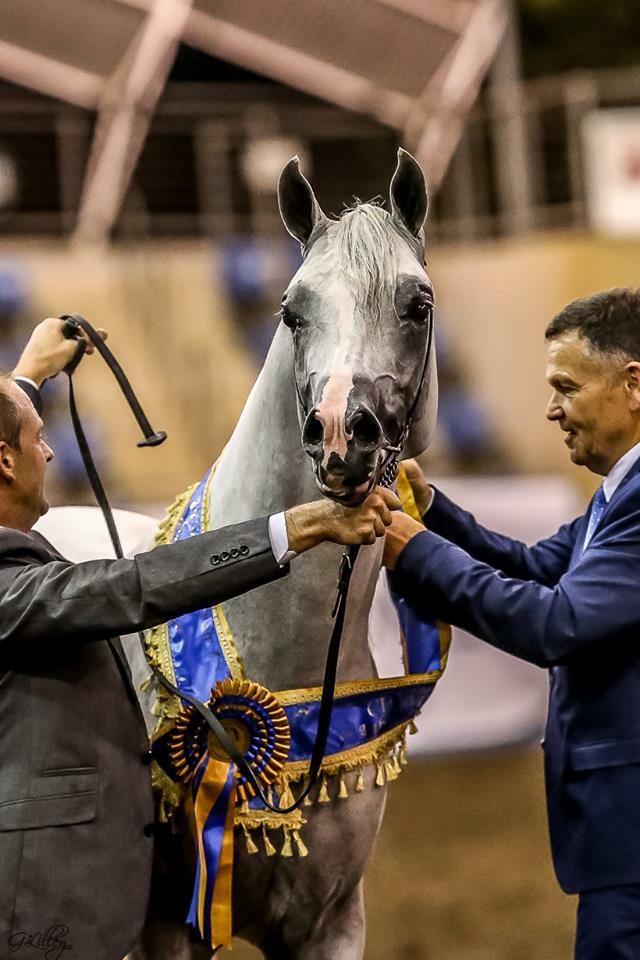 DECEMBER 6th
Our beautiful yearling filly AVALON INDIA TCHAATA has found a great new home, the day her brother got TOP TEN at the world Championships, this filly is very special and I couldn't dream for a better a future for her!
Congratulations to her new owner and wishing them the very best for the future!
DECEMBER 4th
Feeling great to share a great success in Paris 2015 World Championships, our home bred TCHAATA INIZIATO is the only French horse to pass the qualifications and the only one to finally represent France at the 2015 World Championships.
He achieved 3rd in his qualifying yearling category, and TOP TEN World Champion Yearling colt.
He has had the highest points out of all the French horses entered in the Paris show. He then won the 'Coupe De France' awarding the trophy of the best French horse for the 2015 show seaon. And we also got the award of the best 2015 French breeder for the 2015 show season!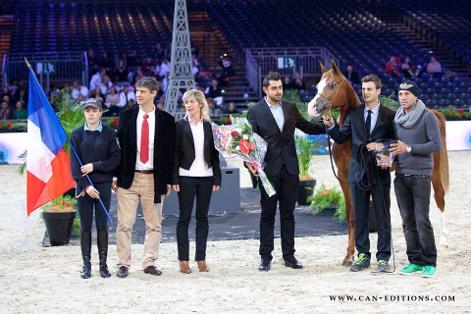 SEPTEMBER 20th
Great news from Australia....GAI'ZELLE SA ( x MF Aryan el Thessa) owned by Dan and Lauren Sharpe won her class with the highest points of teh show and won the junior female Championships in the Mackay A class show - Australia!
And next in the ring was SNIPER AS ( x MF Aryan el Thessa ) owned by Shannon Parry... Class winner and Reserve Champion junior Male at the Mackay A class show - Australia!
Congratulations also to Shatana Arabians - Australia, breeder of these 2 MF ARYAN EL THESSA offsprings! Well done to all involved, I am feeling very proud of my stallion's foals winning big shows all over the world!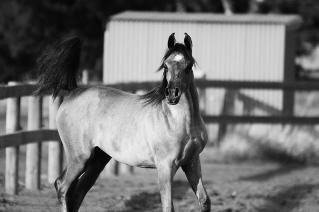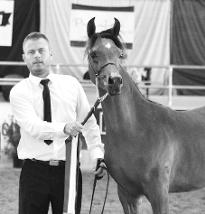 JULY 6th
Another great win for the MF ARYAN EL THESSA son SNIPER AS ( MF Aryan el Thessa X Gaisha Girl ) bred by Shatana Arabians / Australia and now owned by Mrs Shannon Parry / Australia. SNIPER AS has been named JUNIOR CHAMPION JUNIOR MALE at the Queensland Arabian Challenge Show / Australia at 8 months old!!!
Congratulations to all involved, making MF Aryan el Thessa a proud sire once again!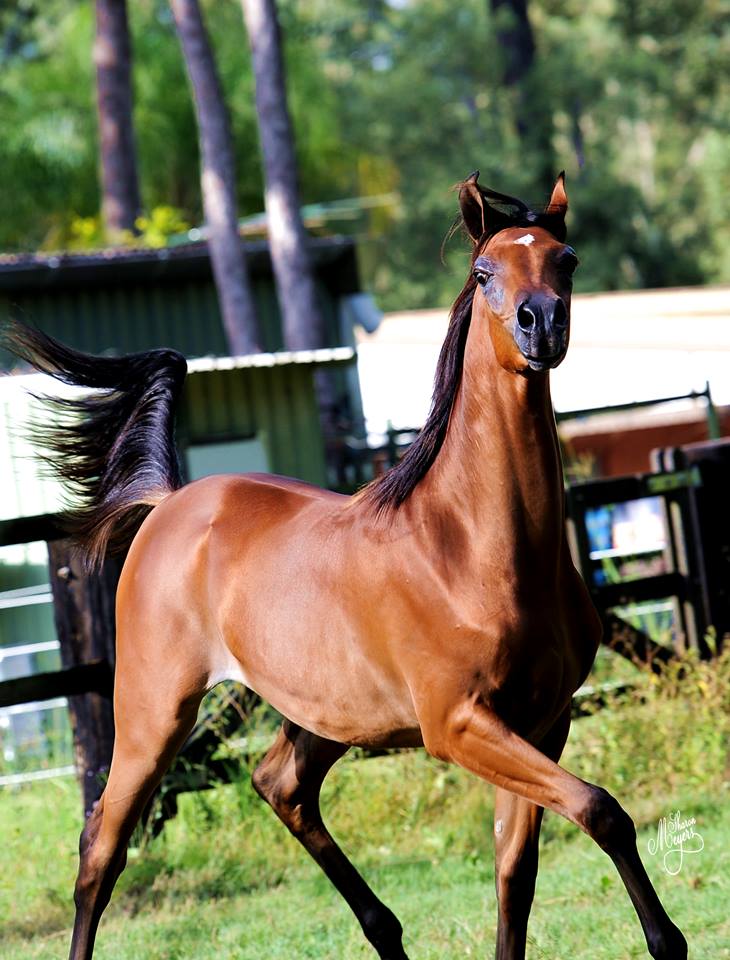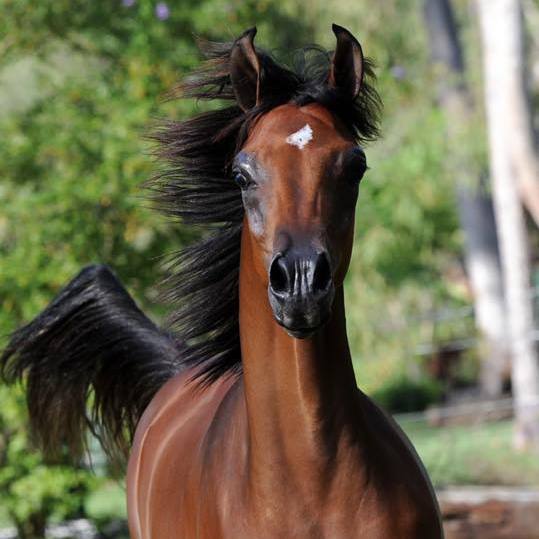 JUNE 20th
A great show for "Tchaata" horses in Miono / Spain. Our homebred TCHAATA INIZIATO did it again. 2nd show and second GOLD MEDAL!
2015 Gold Medal Junior Male 2015 ArabesCo B International Show - Best in Show award and highest score of the entire competition with a total average score of 94.0 points.
Congratulations to all involved. Proudly owned by M. Frederic Riviera / Elevage du Lys d'Or
Tchaata Iniziato ( Inizio X Avalon Just Mywenn )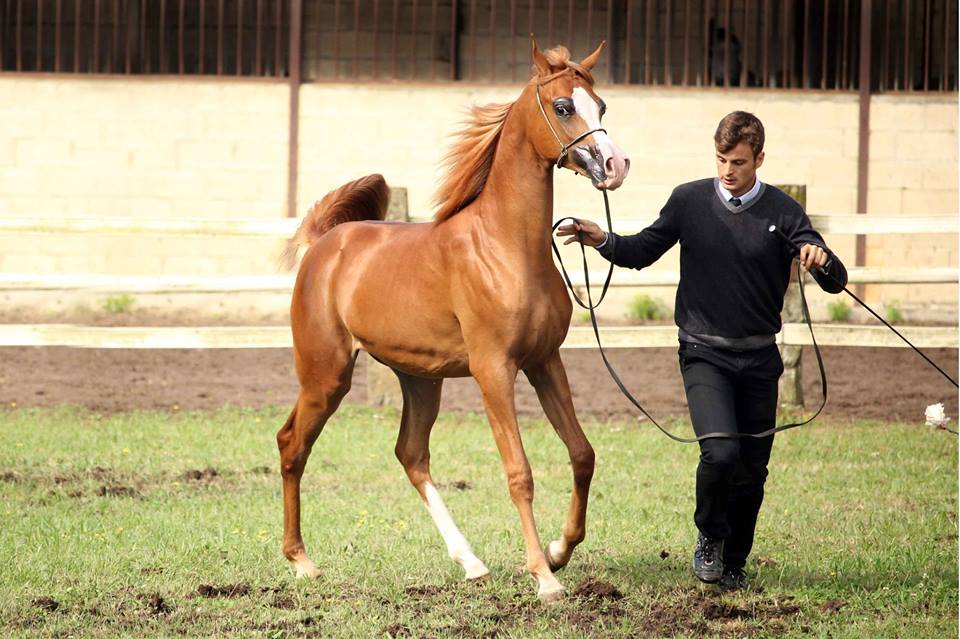 Congratulations also to AVALON PESENKA, Yearling filly class winner and Bronze Medal Junior Female in 2015 ArabesCo B International Show. A daughter of our stallion INIZIO that we sold to Avalon2. We are very proud of his production and and we are excited to take care of his stallion career. Frozen semen of high quality will be available all over Europe in 2016. Contact us if you want to produce your future champion!
Our Stallion MF ARYAN EL THESSA was also represented in Miono, his daughter NEILA CHANEL was shown for her owner and breeder Mr and Mrs Savenier. Thsi stunning white mare looking so much like her sire was named 2015 GOLD MEDAL Senior Female!
Photo: Neila Chanel ( x MF Aryan el Thessa )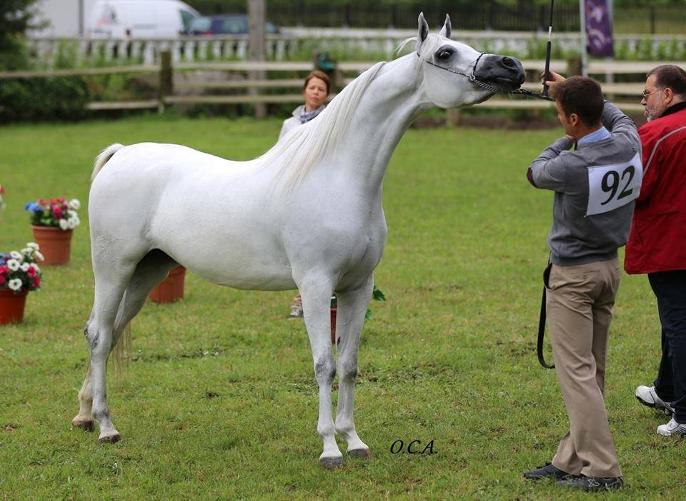 JUNE 4th
Congratulations to "Tchaata" bred horses.... Tchaata MATISSE 2015 Silver Medal Senior Male at the Turbo Star International Show with a score of 93.33 points ! Congratulations to Branninge Stud - Family Holm / Sweden.
Tchaata INIZIATO, Yearling colt Classwinner and Gold Medal Junior Male at the 2015 International Rosieres aux Salines for his 1st show! Owned by M. Riviera, Elevage du Lys d'Or / France